Export Pallets
Enviro Pallets is an accredited export pallet heat treatment facility - Australian Wood Packaging Certification Scheme.
Export Heat Treatment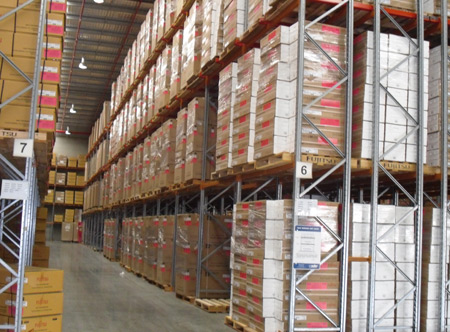 Enviro Pallets Pty Ltd has installed a heat treatment module at its Penrith premises which ensures all pallets exported by clients meet strict International Plant Protection Convention (IPPC) regulations.
The company has been accredited as a Wood Packaging Manufacturer with an on-site Treatment Facility.
Many of Enviro Pallets' clients are involved in the export market and the installation of the heat-treatment module ensures a faster turnaround time between manufacture and loading for export.
Pallets exported to most countries from Australia must comply with International Standards for Phytosanitary Measures Publication 15 (ISPM 15).
ISPM 15 is a measure developed by IPPC that directly addresses the need to sanitise certain material used to ship products between countries. It affects items like shipping pallets and requires that pallets be heat treated or chemically fumigated, or made from alternative material, like paper (cardboard).
Australia is one of 157 national governments which are members of IPPC, an international treaty organisation that works to prevent the international spread of plant diseases.
Its functions include the maintenance of lists of plant pests, tracking of pest outbreaks, and coordination of technical assistance between member nations.
Due to the IPPC regulations, most pallets shipped across national borders must be made of materials that are incapable of being a carrier of invasive species of insects and plant diseases.
Pallets made of raw untreated wood, are not compliant with ISPM 15. To be compliant the pallets must be treated by either of the following means under the supervision of an approved agency such as Enviro Pallets Pty Ltd.
Heat treatment: The wood must be heated to achieve a minimum core temperature of 56ºC for at least 30 minutes. Pallets treated via this method bear the initials HT by the IPPC logo.
Chemical fumigation: The wood must be fumigated with methyl bromide. Pallets treated via this method bear the initials MB by the IPPC logo.
Enviro Pallets Pty Ltd has adopted the heat treatment method because it gives pallets has a much longer life-span than those which are chemically fumigated.
For further information on ISPM 15 and the export of pallets, contact the Australian Quarantine Inspection Service on 1800 020 504 or 02 6272 3933 or at www.daff.gov.au.